A Bomb is an object that explodes, spreading materials around the sandbox. It usually revolves around a combination of Powder. There are multiple types of bomb, each with different characteristics.
Base of The bomb Types are: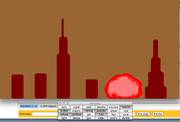 Heat-Bomb: often do not destroy non-flammable solids, however destroys flammable solids very fastly. (Heater combinations)
Acid-Bomb: destroys everything almost immediatly, like in picture in the right. (Outflow combinations)
Force-Bomb: destroys building made from crackable solids(like brittle), and pushes other things that are pushable. (Jet combinations)
Some bombs are combination of those types.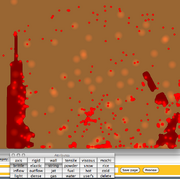 Edit Demon (talk) 04:18, August 1, 2012 (UTC)​ edit_Demom

Edit Demon (talk) 04:19, August 1, 2012 (UTC)​ edit_Demon

Ad blocker interference detected!
Wikia is a free-to-use site that makes money from advertising. We have a modified experience for viewers using ad blockers

Wikia is not accessible if you've made further modifications. Remove the custom ad blocker rule(s) and the page will load as expected.