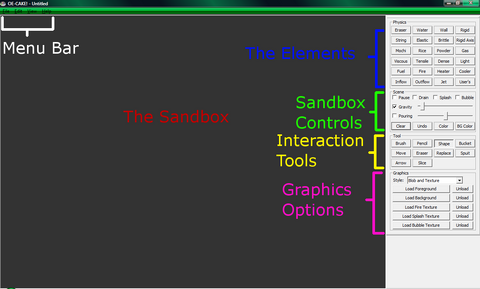 In this article, you can read about the interface, controls and tools in OE-Cake.
Canvas
The Canvas is a sandbox. It is where you draw your elements and where everything happens. It contains all of the elements and interactions that occur during play, according to the save being used.
Materials
The Materials are what you draw on the canvas. They then act of their separate rules. OE-Cake has amazing physics, so you'll immediately see the result.
Controls
These tools affect various different settings in the Sandbox.
Tools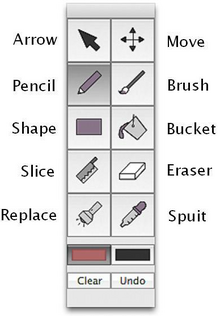 The interaction tools change what your mouse does in the Sandbox. Click to use them.
Graphics Options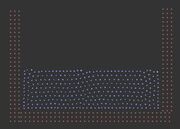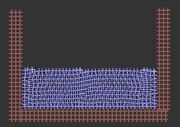 View Modes
Graphics options allow you to set the graphics as you want them. They can make OE-Cake look better or worse.
Style: This changes the style of the elements and Sandbox. See the surrounding images to find out what they all look like.
Load Foreground: This lets you load an image to have in front of your elements. Click Unload to remove it.
Load Background: Same as above, but behind your elements. Hit Unload to remove it.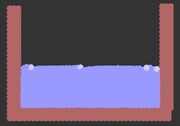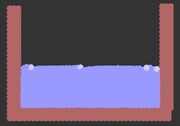 Load Fire Texture: Set an image as the "fire" particles that Fire gives off when it's burning. Hit Unload to reset.
Load Splash/Bubble Texture: Set an image to use for these two water effects. Hit Unload to reset.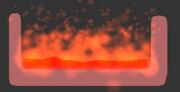 Fullscreen Mode
Fullscreen mode in Windows can be accomplished by dragging the menu off the side of the window. See the
Fullscreen
article for more info.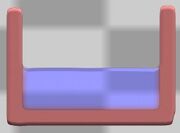 Shortcuts
These are various keyboard shortcuts that you may use to quickly do things For Materials Shortcuts see Standard materials
| Tool | Shortcut |
| --- | --- |
| Graphics (Points) | 1 |
| Graphics (Crosses) | 2 |
| Graphics (Cricles) | 3 |
| Graphics (Blurred Circles) | 4 |
| Graphics (Blob) | 5 |
| Graphics (Blob and Texture) | 6 |
| Graphics (Shader) | 7 |
| Material Toggle(Pictures) | 0 |
| Gravity Lower(Up) | [ |
| Gravity Higher(Down) | ] |
| Gravity Toggle |  ; |
| Drain | , |
| Pouring(Stream) | . or `(AKA ~) |
| Pouring(Rain) | / |
| Pouring Material | Shift+(Material Key) |
| Reset momentum |  : (Shift+;) |
| Clear | Delete |
| Pause | Spacebar |
Note: Pouring Material Change will Activate Pouring as well as some keys change the current tool. After changing the material Rain will have this material too when you activate it.

The Following Selects Tools but also activate Pouring
[Note: maybe only Windows]
| Tool | Shortcut |
| --- | --- |
| Eraser | Shift+E |
| Shape | Shift+U |
| Spuit | Shift+I |
| Pencil | Shift+P |
| Arrow | Shift+A |
| Bucket | Shift+G |
| Replace | Shift+J |
| Slice | Shift+K |
| Move | Shift+V |
| Brush | Shift+B |