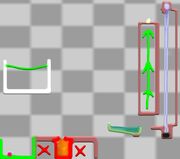 The User element is an element that is controlled by the keyboard using the arrow keys. It is usually the centerpiece used in Levels and is often mixed with other elements. The default material is User+Rigid.
When Gravity is enabled, it acts like a jumping object even when mixed with Gas. Without gravity User can move freely in all four directions. User's speed and strength along the vertical and horizontal directions can be changed in the Parameters. By modifying the usersX and usersY Parameters you can also create User that is always trying to move in a certain direction at a constant speed, which creates very interesting liquids and gasses .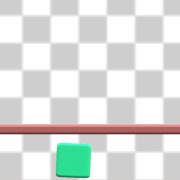 User can be mixed with Wall and Axis, allowing you to control chunks of these materials. For example, you could hook a bunch of Elastic up to a cursor-shaped piece of Wall+User, and have a User-controlled character that tries to follow a cursor.